ETA: THE DOWNLOAD FOR THE SECOND SET IS NOW FIXED. YOU CAN NOW DOWNLOAD IT AS A ZIP AT THE DEVIANTART LINK. SORRY FOR THE MIX-UP. Also for the capslock.
Here lies yet another 2 texture sets. This one is ~different~, although not in a way that actually impacts their usability. This time, I started with images of famous artwork instead of stock images.
The theme this month at
20inspirations
was famous art, and, once again, I started making icons and got distracted by all the cool shapes, colors and surfaces and ended up making textures instead, although this time I'm totally gonna finish my icon set too. Anyway, here are both famous art-based texture sets.
PREVIEWS: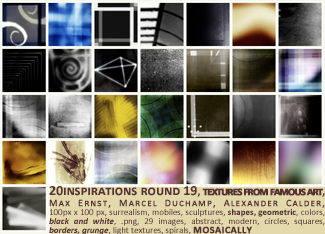 Individual Textures (Set 1)
Lissitzky, Matisse, Monet & Stella

1. Comments are ♥.
2. So is credit. (<lj-user="happy-harper13"> @ <lj-user="mosaically">)
3. If you like what you see, we'd love it if you decided to watch or join mosaically.

Happy almost-Cinco de Mayo, and stay fabulous,
Harper FIXED